This is the single factor that undermines the success of blacks in America today.
All the affirmative action and public school spending cannot make up for the deficiencies resulting from solo motherhood.
Quote:

Impact on children


According to 

David Blankenhorn

,

[20]

 Patrick Fagan,

[21]

 Mitch Pearlstein

[22]

 David Popenoe

[23]

 and Barbara Dafoe Whitehead,

[24]

 living in a single parent family is strongly correlated with school failure and problems of delinquency, drug use, teenage pregnancies, poverty, and welfare dependency in the United States. Using multilevel modeling, 

Suet-Ling Pong

 has shown that a high proportion of American children from single parent families perform poorly on mathematics and reading achievement tests.

[25]

[26]


In Sweden, 

Emma Fransson

 et al. have shown that children living with one single parent have worse well-being in terms of physical health behavior, mental health, peer friendships, bullying, cultural activities, sports, and family relationships, compared to children from intact families. As a contrast, children in a 

shared parenting

 arrangement that live approximately equal amount of time with their divorced mother and father have about the same well-being as children from intact families and better outcomes than children with only one custodial parent.

[27]


The United Kingdom 

Office for National Statistics

 has reported that children of single parents, after controlling for other variables like family income, are more likely to have problems, including being twice as likely to suffer from mental illness.

[28]

 Both British and American researchers show that children with no fathers are three times more likely to be unhappy, and are also more likely to engage in anti-social behavior, abuse substance and engage in juvenile deliquency.

[29]

[30]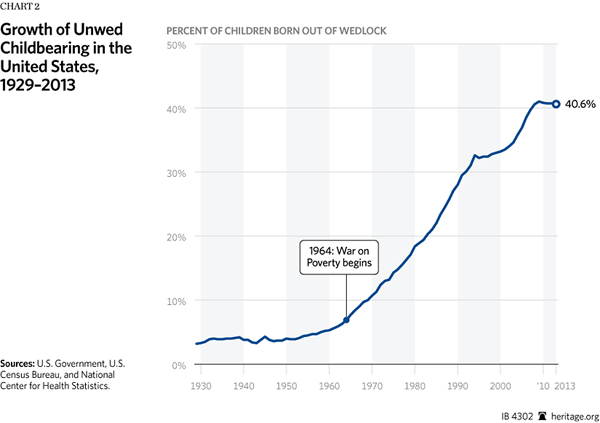 Welfare and the Decline of Marriage
It is no accident that the collapse of marriage in America largely began with the War on Poverty and the proliferation of means-tested welfare programs that it fostered. When the War on Poverty began, only a single welfare program—Aid to Families with Dependent Children (AFDC)—assisted single parents. Today, dozens of programs provide benefits to families with children, including the Earned Income Tax Credit (EITC), Temporary Assistance for Needy Families (TANF), the Women, Infants and Children (WIC) food program, Supplemental Security Income (SSI), food stamps, child nutrition programs, public housing and Section 8 housing, and Medicaid. Although married couples with children can also receive aid through these programs, the overwhelming majority of assistance to families with children goes to single-parent households.
The burgeoning welfare state has promoted single parenthood in two ways. First, means-tested welfare programs such as those described above financially enable single parenthood. It is difficult for single mothers with a high school degree or less to support children without the aid of another parent. Means-tested welfare programs substantially reduce this difficulty by providing extensive support to single parents. Welfare thereby reduces the financial need for marriage. Since the beginning of the War on Poverty, less-educated mothers have increasingly become married to the welfare state and to the U.S. taxpayer rather than to the fathers of their children.
As means-tested benefits expanded, welfare began to serve as a substitute for a husband in the home, and low-income marriage began to disappear. As husbands left the home, the need for more welfare to support single mothers increased. The War on Poverty created a destructive feedback loop: Welfare promoted the decline of marriage, which generated a need for more welfare.
Penalizing Marriage
A second major problem is that the means-tested welfare system actively penalizes low-income parents who do marry. All means-tested welfare programs are designed so that a family's benefits are reduced as earnings rise. In practice, this means that, if a low-income single mother marries an employed father, her welfare benefits will generally be substantially reduced. The mother can maximize welfare by remaining unmarried and keeping the father's income "off the books."
For example, a single mother with two children who earns $15,000 per year would generally receive around $5,200 per year of food stamp benefits. However, if she marries a father with the same earnings level, her food stamps would be cut to zero. A single mother receiving benefits from Section 8 or public housing would receive a subsidy worth on average around $11,000 per year if she was not employed, but if she marries a man earning $20,000 per year, these benefits would be cut nearly in half. Both food stamps and housing programs provide very real financial incentives for couples to remain separate and unmarried.
Overall, the federal government operates over 80 means-tested welfare programs that provide cash, food, housing, medical care, and social services to poor and low-income individuals. Each program contains marriage penalties similar to those described above. Low-income families generally receive benefits from several programs at the same time. The marriage penalties from multiple programs when added together can provide substantial financial disincentives to marriage. For example, if a single mother who earns $20,000 per year marries a man who earns the same amount, the couple will typically lose about $12,000 a year in welfare benefits. In effect, the welfare system makes it economically irrational for most low-income couples to marry.
The anti-marriage aspect of the welfare state can be illustrated by comparing means-tested welfare with the federal income tax code. For example, under a progressive income tax system with only a single schedule of tax rates indiscriminately covering both single persons and married couples, nearly all individuals would experience an increase in taxes owed when they married and lower taxes if they remain separate or divorce. The current federal income tax system mitigates this anti-marriage effect by having separate tax schedules for singles and married couples.
By contrast, the means-tested welfare system, in most cases, does not have a separate schedule for married couples. When a low-income mother and father marry, they will generally experience a sharp drop in benefits, and their joint income will fall. The anti-marriage penalty is often most severe among married couples where both parents are employed.
Reducing Marriage Penalties
These anti-marriage penalties are harmful to mothers, fathers, children, and society at large. Reform is needed. Yet with over 80 different means-tested aid programs, the U.S. welfare system is very complex. Eliminating all anti-marriage incentives in these programs overnight would be very expensive. However, policymakers can reduce welfare's anti-marriage penalties incrementally.
A positive first step in this incremental process would be to reform the EITC. For the most part, the EITC provides refundable tax credits (i.e., cash benefits) to low-income parents who have no federal income tax liability. The EITC is superior to all other means-tested welfare programs because parents must work in order to be eligible for benefits. In contrast to other welfare programs, the EITC has slightly different benefit schedules for married couples and single parents. These mitigate, but do not eliminate the anti-marriage incentives provided by the program. Policymakers should build on the strengths of the EITC by toughening its work standards, preventing fraud, and further reducing its marriage penalties.

[9]

 A properly reformed EITC could begin to offset the marriage penalties in other welfare programs.
By contrast, increasing the EITC for unmarried fathers who do not support their children is a bad policy that intensifies the anti-marriage incentives within the welfare system. Such a policy would increase overall welfare benefits for parents who do not marry and increase the benefits lost when the couple does marry.