3D printer companies are getting some attention again.  Earlier this month the Motley Fool had an article on 3D printing one how more and more companies are turning to the technology while we can likely forget about using them in our homes (at least for now). From the article:
There's some significant progress on that front, with Stratasys signing deals with both Airbus and Ford. 3D Systems has been used by Mitsubishi and Daimler as well, so these companies are slowly being built into the design process. And these partnerships just scratch the surface of companies expanding 3D printing capabilities.
They go on to explain how 3D printing with metals will be the next phase for growth. And recently they covered again on the shoe industry and it's use 3D printing.
On the 3D printing end, this partnership propels Carbon way ahead of current leader 3D Systems (NYSE:DDD) in the 3D-printed shoe space. Moreover, Carbon is on track to become the tech supplier behind a momentous 3D printing industry record: Once production hits full scale, the Futurecraft 4D will be the highest-quantity mass-produced 3D-printed product ever!
Today shares of Stratasys shot up over 10% on a upgrade noting a positive outlook for the rest of the year.  Stratasys has little debt, and arguably the most experience on commercial 3D printing.
[shock_spots id="255″]
If we compare the disruptive technology cycle chart below with the price action of 3D printing companies we may now just be past the disillusionment trough.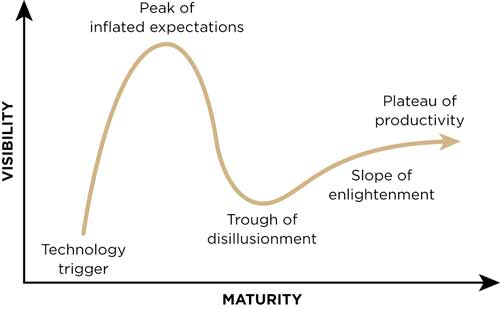 Stratasys ($SSYS) Monthly
The stock is down about 80% from it's 2014 level and now starting to trend up.  Insider buying has also been trending up since December.  If we consider Trump's America first mantra and the push for manufacturing back home, it stands to reason that 3D printing could end up benefiting.  In the future the profits from commercial 3D printing may fuel 3D printing for home personal consumption.
Action to take: Buy Stratasys up to $26 a share.  Use a 25% trailing stop or sell if it closes below $16.00
by